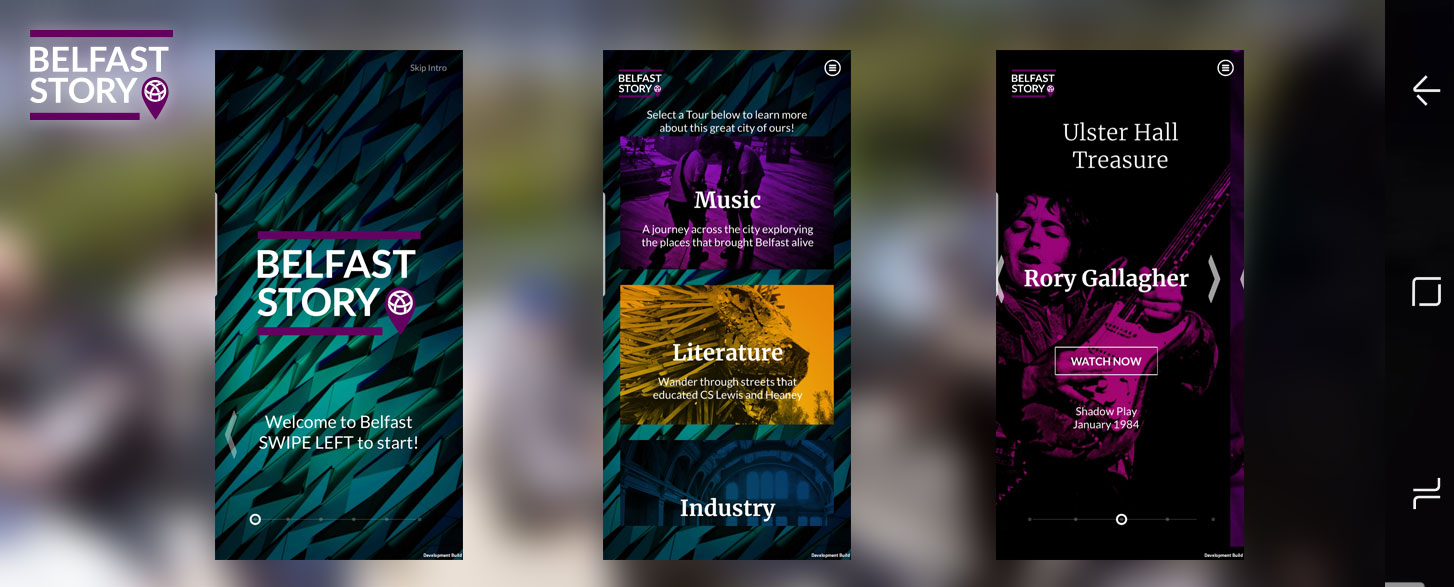 Belfast Music Story AR App
The Immersive Belfast Tourism Challenge prototype combines Augmented Reality, GPS mapping/routing, exclusive video footage and live/recorded 360 video
Belfast City Council launched the Immersive Belfast tourism challenge to explore the potential of immersive technology for delivering tourism-focused digital products. Our prototype focuses on Belfast's vibrant Music Story, to create a genuinely engaging and scalable tourist experience.
Tourists download the app, optionally login and choose a themed Belfast Tour (eg. Music / Sport / Literature / Food & Drink). The app then guides them through the city on a personal whistle-stop tour of killer locations with direct relevance to their chosen theme. Along the way they, they'll discover hidden facts and use augmented reality to unlock exclusive content.
The prototype focuses on Belfast's Music Story. So a dynamic map locates us within the city, alongside key locations like the old Maritime Hotel, Ulster Hall, Harp Bar and Art College. By visiting these locations, we're not only moving through the city: we're also travelling through Belfast's rich musical legacy. From jazz in the 60's, through rock and punk to the explosive 90's dance scene.
As we reach each objective, the app flips to AR-powered object-recognition: we're now on a treasure hunt to find the Rory Gallagher plaque at the Ulster Hall, using our phone's built-in camera!
Once located, the app unlocks hours of exclusive footage from the Ulster Hall throughout the years. These are yours to share and take home, along with Rory's virtual Augmented Reality guitar. You can place it on your table at home and "play" his greatest solos. You can even stream live & recorded 360 video from the city, directly through the app.
In this way, rewards are earned for physically travelling across the city. They could be virtual rewards, like AR/video content, or they might be physical like a free pint at the nearest pub.
A key aspect of this structure is its expandability. Additional locations and tours can be added as required, and the modular structure rolled-out through the app to Belfast Football Story, Linen Story, etc.
Another important element is our ability to track usage. We're capturing anonymized lat/long/date-time/unique-device-identifier from the app to our custom cloud-based platform. This lets us maintain state, so users keep their rewards between visits. Plus we can track collated user movement through the city and across time.
Ultimately, the aim is to develop a reporting suite that helps us understand tourism in the city. By providing tools to interrogate this data, an administrator might understand how one demographic's movement trends through the city on Culture Night. At the other end of the process, The Duke of York pub might understand how it benefits from bidding for direct association with the app.
And when enough data is collected, the potential is there to shift from data-analysis to customer-influence: driving tourists to areas of the city they might not otherwise visit, and benefiting local business in the process.